Ballast Water, Environmental and Ecotoxicology Laboratory
DHI is an independent, international consulting and research organisation established in Denmark and today represented in all regions of the world with a total of more than 1,000 employees. DHI's objectives are to advance technological development, governance and competence in the fields of water, environment and health. Ballast Water and Laboratories is a global business unit within the DHI Group, which currently includes teams in Denmark and Singapore. Our services include compliance evaluation of ballast water management systems and a range of specific tests related to ballast water management. Other services address environmental technology verification by using our Maritime Technology Evaluation Facility and the Environmental Laboratory. We offer ecotoxicological and microbiological studies according to international standards or guidelines – or designed in collaboration with customers. We provide environmental consultancy and testing to support decisions or documentation required by regulation from research and development to the use phase of the final product. Our customers are dominated by international industrial companies, and, thus, we adhere to quality, time schedules and agreed rules for confidential information.
Contact us!
Torben Madsen, Director: tma@dhigroup.com
Rémi Maguet, Head of Department: rgm@dhigroup.com
DHI Maritime Technology Evaluation Facility
The test facility conducts biological evaluations of maritime technologies and other technical equipment. Due to the unique location of the test facility, high quality water is available from natural sources of fresh water and seawater.
The test facility comprises six ballast retention tanks of 250 m3 each and two source tanks, one of 750 m3 and one of 1000 m3. Testing can usually be conducted from the beginning of March to mid-December. The sampling of test water is accredited by DANAK (The Danish Accreditation Fund). 
Our test facility is equipped with automation and data collection by PLC to allow monitoring and full assessment of the customer's system performance. Regular calibration and validation of all the ancillary sensors provide trusted results and allow us to focus on evaluating the technical aspects of the technology.
In addition, ensuring optimum biological conditions of our test water via continuous planning and monitoring provide assurance for high quality tests.
Facility equipped with qualified state-of-the-art sensors and automation
Cloud database allows for remote real-time monitoring
Using our in-house solution, Datafarm, we provide real-time data to our specialists in the office. This allows immediate analysis and troubleshooting in case of test disruption. By doing so, we cut down significantly the idle time and reporting time. All tests can be performed in a timely manner, and thereby reducing the overall testing time.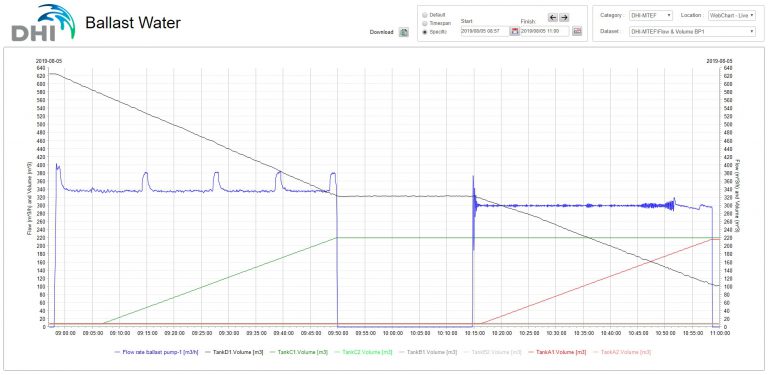 Testing of different types of BWMS: UV system (both low and medium pressure), electro-chlorination, heat treatment and others. 
A capacity of conducting about 100 land-based tests for official Type-Approval annually. 
Both short hold time (< 24 hour) and long hold time (re-growth test) land-based tests.
Streamlined process of testing allows for efficient handling of samples going to DHI laboratory. With implementation of ISO/IEC 17025:2015, we adopt rigorous control of samples analysis and results to ensure high quality data delivered for type-approval reporting.
Environmental and Ecotoxicology laboratory
DHI's laboratories are accredited by DANAK (The Danish Accreditation Fund) to carry out accredited measurements of ballast water samples. 
We have fully equipped environmental laboratories with an experienced staff of technicians, biologists, engineers and chemists. Our laboratory expertise is based on more than 25 years of studies and tests within the fields of biology, chemistry, ecotoxicology and microbiology for industries, authorities and international research programs.
Our laboratories hold accreditation according to ISO 17025, which includes biological and physicochemical analyses and ecotoxicological tests applied in the biological performance evaluation of ballast water management systems. 
Examples of other DHI's laboratory services include:
Biological analyses of live phytoplankton and zooplankton
Microbiological analyses of E. coli, Enterococci and Vibrio cholerae
Ecotoxicological studies according to ISO standards, OECD guidelines or OSPAR Convention protocols
Production of phytoplankton pigment standards and analysis of phytoplankton pigments in environmental samples
Accreditated ISO 17025:2015
In-house facility to conduct microbial and biological analysis
Active in validation of method and research & development activities
DHI Ballast Water Centre provides biological performance verification of ballast water management systems according to the requirements by the International Maritime Organization (IMO) and the United States Coast Guard. The IMO flag state or the US authorities are represented by classification societies and independent laboratories accepted to perform tests and inspections of specific equipment. DHI performs type approval testing of ballast water management systems in collaboration with three classification societies and independent laboratories, which include DNV GL, Lloyd's Register, Korean Register and PIA.
We provide biological performance tests of ballast water management systems conducted with an ISO 17025 accreditation. 
Furthermore, we work in accordance with the quality management system standard, ISO 9001.
The certificate covers the following products or services within the area of water, environment, and health:
consulting
software
research & development
laboratory testing, analysis and products
DHI Marine Technological Evaluation Facility
DHI Environmental Laboratory